Thursday, November 24th, 2016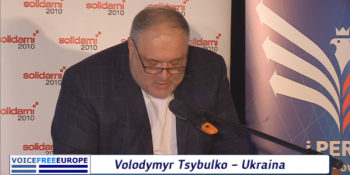 Mykola Davydiuk
Ukraine
"How does Putin's propaganda work"
The new propaganda in Russia and outside its borders. Military agression of Moscow is coworking with the media agression. Journalists are massively paid by the Kremlin. There are also special "farms" of the haters that are active in the social networks. In Ukraine as well as in Brussels works prorussion "experts" paid by the Moscow.
Ukrainian political expert, PhD in Political Sciences,  director of think tank "POLITICS".
Volodymyr Tsybulko
Ukraine
"Limitless Freedom"
Ukraina has suffered much during the XX century: two World Wars, famine, Chernobyl disaster and total rusification. In XXI it suffers agression from Moscow, lost 7 percent of its teritory and every day Ukrainians are killed. But the nation believes in freedom, it has fought Russian influence in education, culture and Church.

Volodymyr Tsybulko. Writer, blogger, political analyst.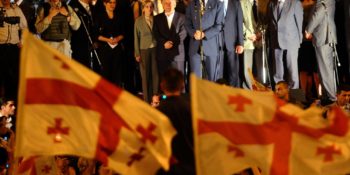 Irakli Bokuchava
Georgia
"Global and local politics"
"Russia considers Georgia as a teritory of its influence. Not as a country.This decision isd humilating for Georgia, but permanent for Russia. I think West is waiting for the bankruptcy, crash of Russia and than will ignore its refusal of Georgia prowestern political orientation and actual process of integration Georgia into European Union and NATO. I call: accept, return Georgia to your political club, to your native European family"
Bokuchava gives us the insight into current situation of Georgia, real life in Russia and the strategies that helped Putin manipulate the public opinion in his country and outside. But he also warns : "Do not demonize Putin. He is just a former KGB agent". Europe should come back to its christian roots, so that every country could benefit from the unity.
Doctor, blogger, publicist.
Marekh Tughushi
Georgia
"The teeth of the Russian bear – domination of Georgia"
Tughushi comes back to the time, when she personally experienced Russian agression towards her country. Explains that acusations that it was Georgia to start the conflict, are simply untrue. She reminds the role of Lech Kaczyński, who is the hero for the Georgians.
Banker, working in Bank of Georgiaasan Universal Teller Operator. She has graduated from Tbilisi Open University in interational relations. She has volunteered in charity company Gorgasali XXI century and in NGOs: , EMT and SiQA – inside and outside of Georgia. Spent 11 monthes in Poland in OHP Siemianowice Śląskie by EFS project.